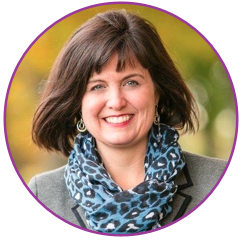 Are you uncertain about how to dress to project a professional presence? I want to tell you an insider image consultant secret: You have an innate fashion personality. I know, I know: You don't want to hear that your have a "fashion personality." YOU, my friend, are unique — you do not fit in a mold! Yes, yes, I know. But you might.
Do you like a tailored fit? Solid colors? Perhaps a pin stripe or a polka dot? A touch of color? Reasonable heels or flats? Do you tend to be more preppy than trendy? You know what? You might be old-school classic. Nothing wrong with that. Invest in classic pieces — wool pants, pencil skirts, neutral tops — you'll wear them over and over and over again. This professional presence look works well in traditional workplaces, often in the financial industry and health care.
What if you have a classic fashion personality and work in a creative industry? If you feel it's important to blend more with colleagues who seem to be artistic/dramatic on the inside and the outside, you can incorporate some more creative pieces that you can still feel comfortable with — like unique crafted jewelry, trendy tops, and vibrant-colored purses. It can be done.
For more professional presence/fashion personality looks, go to Professionality and plug CLASSIC in the search tool. Or try DRAMATIC, ARTISTIC, ELEGANT, and ROMANTIC.
Stay tuned for more on professional presence! Next: Dramatic (I do work with a bunch of actors, after all!)
Want more professional presence tips? Try these on for size: